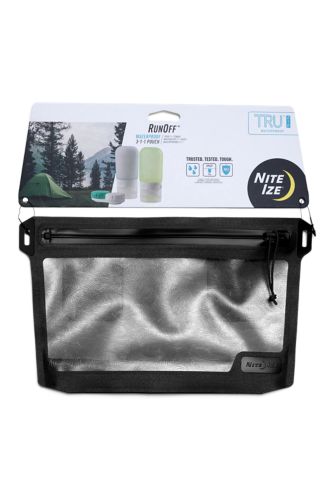 Nite Ize® RunOff® - Waterproof 3-1-1 Pouch
Waterproof
Product Description
Keep toiletries, electronics, books, or other small items organized and dry in this waterproof, dustproof pouch. Patented TRU® Zip technology, durable TPU construction, and RF-welded seams ensure that the contents stay dry.
NOTE: To close the TRU Zip zipper, move slider slowly and pull firmly to lock into zipper end-stop. If slider is not fully closed, zipper will not seal as intended. Test the RunOff bag for waterproofness periodically by submerging after sealing the TRU Zip zipper. Do not use if bubbles escape the bag during testing.

IMPORTANT: The performance of the product depends in part on correct use and maintenance of the TRU Zip zipper as described above. Protect the RunOff bag from sharp objects and abrasions during use and always inspect the bag for wear and tear before use. Nite Ize, Inc. is not responsible for any damage caused to any equipment or property from the use of this product.
Features
Adheres to TSA 3-1-1 Liquids Rule
Gusseted bottom creates stable, stand-up base
Translucent front for easily locating items
Fits travel-size toiletry products
Integrated anchor points for multiple attachment options
Interior dimensions: 5.9" x 8.8" x 2.4"
Weight: 1.4 oz / 39g
Reviews
Tell others what you think. Be the first to review this product.
Write a review