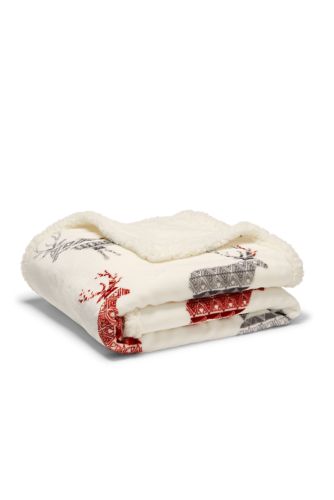 Product Description
Our reversible throw features cozy patterned fleece on one side and ultrasoft faux shearling fleece on the other. Perfect for relaxing at home, and a great gift!
Faux Shearling
An important note on the use of a culturally appropriated term and design in this product:
Eddie Bauer has replaced the term
Sherpa
with
Faux Shearling
as part of our company-wide effort to remove culturally appropriated designs, terms, and names from current and future products.
Sherpa
refers to an indigenous people native to Tibet and Nepal in the eastern Himalayas of Central Asia. This product also employes a cultrual design that belongs to the Navajo people
Learn more about our efforts here
Features
Patterned fleece reverses to faux shearling fleece
50" x 60"
Softest, Best Throw Ever!

I bought this throw to keep at our vacation home, but it's so soft and wonderful, I'm keeping it with me. Seriously, it's amazing! I never thought at my age I'd become attached to a blankie, but I have this throw with me whenever I'm sitting or lying down—its softness makes me happy. Looks like I'm going to have to buy another one for the vacation home.
ProfLouise
READ MORE REVIEWS