Everything tastes better when it's cooked over a campfire or camp stove, right? Try one of these great recipes on 8/8 or anytime you're out enjoying a night under the stars.
Nick's Lentil Stew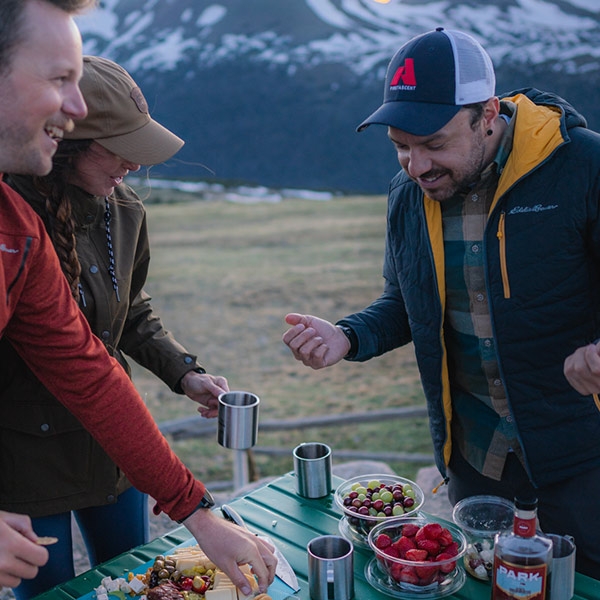 Nature photographer and Eddie Bauer contributor Nick Lake likes to eat well while he's out in the wild. Here's a recipe from one of his recent backpacking adventures.

*Chop & dice all your ingredients before you go

2 slices of thick cut bacon or pork belly
1/2 onion,
1 garlic clove
3 potatoes 
2 celery stalks
2 carrots
1 bunch of parsley

Cube bacon or pork belly and pack in its own container.
Dice onion, mince garlic and pack in a container.
Cube potatoes into 1/4 inch pieces, chop celery stalks, carrots, and parsley, and pack in a third container.
Combine some salt and pepper in its own container.

2. Pack separately:
2 tablespoons of olive oil (individual packets are really useful for
packing in and out)
4 tablespoons of balsamic vinegar
3-4 cups of vegetable (or chicken) stock
1/2 cup red or yellow lentils. 

3. Place the dutch oven or pan directly on the hot coals (or camp stove) and brown the bacon in olive oil. Add onion and garlic and cook until translucent. Add lentils and stir. Then add balsamic vinegar and deglaze pot by scraping around the bottom. Add carrots, celery, potatoes, and stock. Simmer until the lentils and potatoes are cooked (roughly 15 minutes. Season with salt and pepper, garnish with parsley.

Bon appetit!
Katie's Overnight Soaked Oats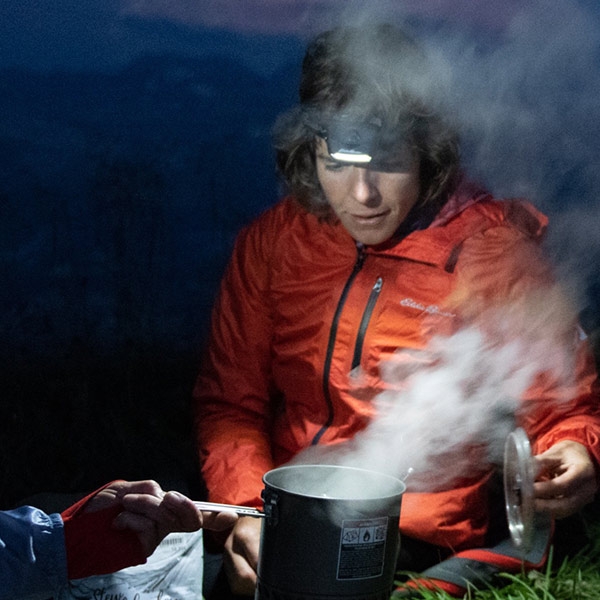 Our climbing athlete Katie Lambert knows a thing or two about belays and big walls, and as a nutritional therapist she makes delicious and nutritious backcountry meals as well. Try this oatmeal recipe with your morning coffee.

1/4–1/2 cup whole rolled oats (depends on personal preference) 
2 tblsp chia seeds
1/4 c pumpkin seeds
1/4 c coconut flakes

Add all ingredients to a bowl or container with lid (Katie's favorite is the empty Talenti containers). Mix well & cover with water. Make sure everything is submerged. Soak overnight. In the morning add ½ to 1 cup yogurt, kefir, or milk. If you don't have access to refrigeration you can use milk powder. Go for full-fat goat milk powder – it's easy to digest and provides the fat for long-lasting fuel.  With yogurt or milk, approx. 631 cal, 71g carbs, 25g fat, 21g protein.
Vik's Backcountry Pad Thai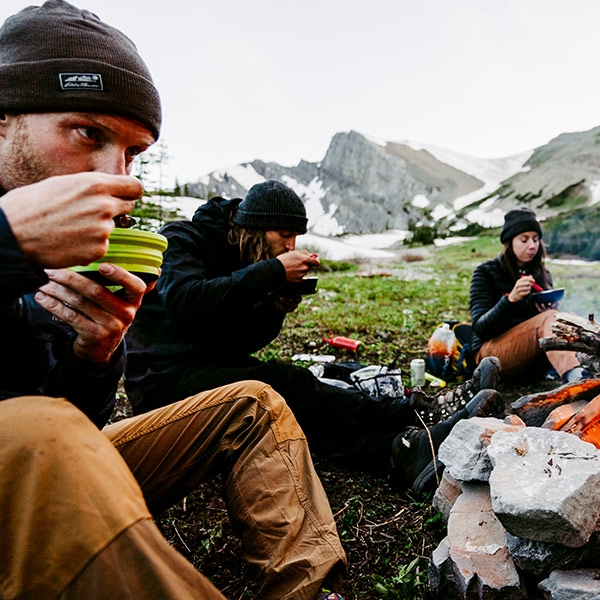 This Pad Thai recipe by photographer, Eddie Bauer contributor, and campfire cook extraordinaire proves that, with a little prep ahead of time, making great meals outdoors can be easy and fun.

Sauce
1 Tbsp Raw Cane Sugar
2 Tbsp Soy Sauce
1/4 Cup All Natural
Crunchy Peanut Butter
Juice of 1 Lime
1/2 Tsp Ketchup
Pinch of Dried Chili Flakes
1/8 -1/4 Tsp Fish Sauce *Optional
1 Tbsp Water (if sauce is too thick)

Bowl Ingredients
1/2 of a 454 gram package of medium thick flat rice noodles
1 Large or 2 small shallots, diced
2 Minced cloves of garlic
8 Sliced or diced cremini mushrooms
12 Sliced sugar snap peas
2 Peeled and julienned carrots
2 Chopped Scallions Dry Fried Tofu + Broccoli for the at home version

Toppings
Cilantro
Dry roasted, unsalted peanuts
Lime wedges
Sriracha

Sauce How To
Grab a 250ml spill-proof, screw top container. I use the Nalgene Widemouth HDPE Bottle.
Measure the sauce ingredients into the bottle.
Screw the lid on, and shake until everything is smoothly incorporated.

Veggie Prep
Rinse and dry all of your vegetables, except the garlic and shallot
Trim off ends of carrots, scallions, cilantro and mushrooms
Julienne your carrots into matchsticks
Wrap each grouping of veggies in paper towel or beeswax wraps, this will keep the veggies fresher longer. I reuse the paper towel later on during backpacking as tissue, to clean up spills, or as a fire starter.
Place all of your paper towel wrapped veggies, shallot and garlic into a airtight container or bag.

Packing How
To Measure out a hefty serving of your peanuts into a small container or bag. I do 2-3 Tbsp per person. Into a airtight bag or container, pop the dry noodles, container of sauce, container of peanuts, and if you want, some sriracha in a squeeze bottle!
If you haven't already, pop all of your prepped and paper towel wrapped veggies into a separate airtight bag or container!

Step 1
Using enough water to cover the noodles, heat until boiling
Add in noodles and cook until they reach your desired softness. Cooking times will vary based on elevation
When noodles are cooked, strain and portion into bowls.

Step 2
Peel and finely slice up your shallots and garlic
Slice your mushrooms + snap peas into bite size pieces
Heat a non stick pan or pot to medium
Add in shallots and garlic and cook, stirring often until fragrant.
Add mushrooms and snap peas to pan and cook for a few minutes, until the mushrooms start to brown.
Spoon cooked veggies onto your noodles, and top with sauce, peanuts, scallions, cilantro and sriracha!